Who to contact after a Funeral checklist
The weeks following a funeral can be an very hard time not only with emotions but also with closing of accounts & services.
It can be hard to know where to start and who to contact first. We have come up with a list of the most common organisations to be contacted following a funeral.
Please click on the file below to download & print this checklist.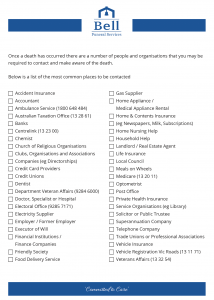 For Help or Advice on arranging funerals, Please call our free call funeral line.
Please phone our 24 Hour Free Call Assistance 1800 012 011.